Yamaha P-125 digital piano (white)
ID: 3053238, Vendor kodas: NP125WH
Prekės prieinamumas
Prieinamas
Aprašymas
The Yamaha P-125 is a compact digital piano that combines incredible piano performance with a user friendly minimalistic design.
Easily portable and extremely accessible, this instrument allows you to experience the joy of playing the piano on your terms.
Slim, dynamic and powerful
Building on the great success of its predecessor, the P-125 comes with even more features to help you grow with your music. It produces the dynamic, high-quality sound and natural piano touch response expected from Yamaha pianos while maintaining a sleek and slim footprint.
A modern classic
The modest design of the P-125 was created with user accesibility in mind. With the goal of being as user-friendly and approachable as possible, every element of the P-125 is designed to help keep the player focused on their playing. The minimal light reflection of its continuous surface and the understated speaker design all work to collectively achieve a beautiful and elegant finish.
Features
Authentic piano playability
Piano Quality unique to Yamaha
Yamaha's unique Pure CF Sound Engine is the result of over a century of acoustic piano craftsmanship combined with state-of-the-arttechnology and expertise.
Yamaha is the industry leader in digital piano technology, and you can hear this in the sound of digital pianos that utilise the Pure CF engine. P-125 includes the sound of the renowned Yamaha CFIIIS 9' concert grand piano and is faithfully reproduced, allowing for incredible dynamics and expressiveness making Pure CF equipped digital pianos worthy of the Yamaha name.
A Graded Hammer Standard (GHS) 88-key piano keyboard provides a heavier touch in the low end and lighter touch in the high end, and is similar to the acoustic piano.
Authentic Piano performance space
The newly improved 2-way speaker system produces an expansive piano sound in both upward and downward directions.
This enables the player to enjoy a rich sound field as though you were sitting in front of an acoustic piano.
The Stereophonic Optimizer—a new kind of headphone experience
When using headphones, the Stereophonic Optimizer lets players enjoy the same dispersed sound heard when sitting in front of an acoustic piano. With the Stereophonic Optimizer, Voices sampled from acoustic pianos appear to come from the body of the instrument.
This provides a comfortable, natural experience that eliminates the downsides of performing with headphones.
Go and Play—Anywhere
The P-125 is light and compact for easy portability.
With the dedicated softbag, you can bring P125 everywhere you want.
Optimal sound on the table
The new "table EQ" feature enables the player to maintain optimal acoustics, so even if you play on a hard, flat surface, you can get the best possible sound.
Bass and Drum beats are right on time
P-125 has on-board Bass and Drum tracks that keep your playing in time. There's a variety of rhythm patterns to choose from depending on the the vibe you're going for. From rock to ballads, use these rhythms to add an element of fun to your practicing, or simply use them as a virtual drummer for your performances.
Simple operation using the Smart Pianist app!
Our "Smart Pianist"app allows you to control the many functions included in Yamaha digital pianos with your smart device. Voices, rhythms and other settings can be selected while looking at the screen, making it easy to enjoy new functions with ease.
You can also save your favorite settings for quick recall at any time. You can discover the chords in audio tracks in your iPhone or iPad instantly. Find new ways to enjoy your P-125, using smart functions that only a modern digital instrument can provide
Smart pianist
Smart Pianist V2.0 is compatible with P-125.

Have you ever tried to figure out what the chords are to your favorite songs?
Smart Pianist app for iPhone/iPod touch/iPad helps you practice and perform songs by analyzing the audio song stored in your iOS device and then displays the chord symbols for you.
And also Smart Pianist allows you to control the many functions included in the piano with your iOS device, for even easier operation.
Easy Voice selection and Easy settings
In addition to selecting piano voices, you can use the layer function to overlay voices, or the split function to play different voices with the left and right hands, playing multiple voices simultaneously to create performances with a pleasingly full sound.
A range of functions such as Transpose, Tuning, Pedal and acoustic settings can be configured easily and intuitively from the touch screen.
*Voice selection and configurable functions may differ depending on the model.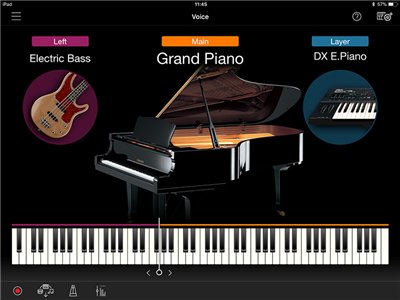 Play your favorite songs right away with chord progression
Smart Pianist can extract chords from Audio that automatically creates a chord progression from audio songs on your smart device, allowing you to enjoy playing along with your favorite tunes.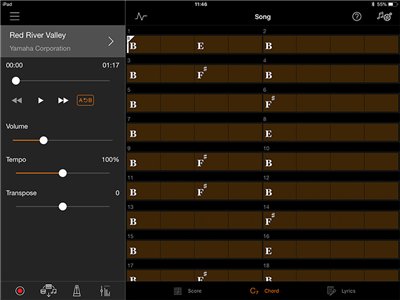 The method for connecting an instrument to iOS devices
An Apple Lightning - USB Camera Adapter and a USB cable (sold separately) are required.
Connect the USB cable to the USB TO HOST port on the instrument.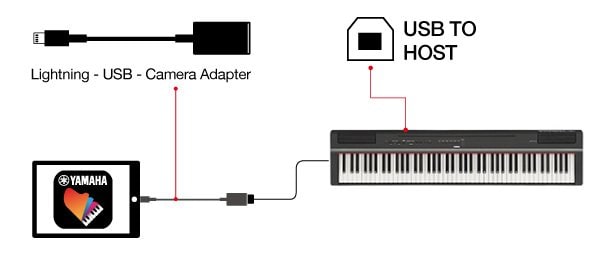 Specifications
Dimensions
Width: 1326mm
Height: 166mm
Depth: 295mm
Weight: 11.8kg
Control Interface
Number of Keys: 88
Keyboard Type: Graded hammer standard (GHS) keyboard, matte finish on black keys
Touch Sensitivity: Hard/medium/soft/fixed
Panel Language: English

Voices
Tone Generation: Piano Sound Pure CF Sound Engine
Number of Polyphony: (Max.) 192
Preset Number of Voices 24

Effects
Types Reverb: (four types)
Intelligent Acoustic Control (IAC)
Damper Resonance
SOUND BOOST
Functions Dual/Layers
Split
Duo

Songs
Number of Preset Songs: 21 demo songs and 50 piano songs
Number of recording Songs: 1
Number of recording Tracks: 2
Data Capacity: 100 KB per song (approx. 11,000 notes)
Compatible playback Data Format: SMF (format 0, format 1)
Compatible recording Data Format: SMF (format 0)

Functions
Metronome
Tempo Range: 5 - 280
Transpose: -6 to 0,0 to +6
Tuning: 414.8 - 440.0 - 446.8 Hz
Rhythm: 20

Storage and Connectivity
Connectivity: DC IN DC IN 12 V
Headphones: Standard x 2
Sustain Pedal: (Half pedal available with optional FC3A)
Pedal Unit: (Optional)
AUX OUT: [L/L+R][R]
USB TO HOST
Amplifiers and Speakers
Amplifiers: 7 W x 2
Speakers: 12 cm x 2 + 4 cm x 2

Power Supply
Power Supply: PA-150B or other Yamaha-preferred parts
Power Consumption: 9 W (using PA-150 power adapter)
Auto Power Off Function
Accessories
Music Rest
Pedal/Footswitch
AC Adaptor PA-150B or other Yamaha-preferred partsv
Dėmesio! Nurodytos prekės gali skirtis nuo tikrojo produkto. Kad užtikrintumėme kokybišką aptarnavimą, susisiekite su mūsų vadybininkais.
Peržiūrėtos
Naujienos ir apžvalgos
Geriausi pasiūlymai
Pirmieji sužinokite apie mūsų naujausius pasiūlymus ir akcijas!
Pateikti